Governors
Roles and Responsibilities
The Governing Body works in close co-operation with the Headteacher in taking general responsibility for the conduct of the school with a view to promoting high standards.
The role of the governing board is a strategic one, its key functions are to:
set the aims and objectives for the school
set the policies for achieving those aims and objectives
set the targets for achieving those aims and objectives
monitor and evaluate the progress the school is making towards achievement of its aims and objectives
be a source of challenge and support to the headteacher
Governors have an important role in maintaining the distinctive Christian ethos of the school through developing and maintaining links with St Luke's Church and Southwark Diocese.
The Governing Body normally meets four or five times a year as a whole group and in committees during the intervening times. The committees are responsible for:
health & safety and school premises
finance
admissions
pay and personnel
achievements and standards
wellbeing
Governing Body, as at September 2019:
Please click on each governor for more information.
Mrs Janet Ayris (Chair)
Governor: Foundation (Chair)
Date of appointment: 23/09/2003
Term of office: 2017 - 2021
Appointing body: PCC
Committees: Pay & Personnel (Chair), Achievement & Standards
2019-20 attendance: 100%
I am a retired teacher who attends St. Luke's church. I sing in the choir at the church as well as with the U3A choir. I am in school most Wednesday mornings, usually with Year 5. I help with other class visits including the Hindleap Warren week.
I volunteer at the Landmark Arts Centre in Teddington and spend a fair amount of time helping with my grandchildren as well as singing, gardening, sewing and knitting.
Ms Maria Netley (Vice Chair)
Governor: Local Authority (Vice Chair)
Date of appointment: 05/10/2002
Term of office: 2020 - 2024
Appointing body: LA
Committees: Finance, Pay & Personnel
2019-20 attendance: 93%
As an LA governor I have no direct connection with the school apart from my work as a governor and was additionally introduced to the school through the LA.
I have lived in and around Kingston since 1991 and have spent my 30 year career working in various large city institutions specialising in the area of Electronic Trading and in 2014 took the step to start working in a freelance capacity.
Outside of the office I sing in a choir made up entirely of old girls from my school in Croydon, I play the flute and am still trying to learn the piano. I like to keep fit cycling and in 2012 I was privileged enough to work as a volunteer at the Olympics, working on the Cycling Road races and time trials. Then 2013 saw me tackle my longest ever physical challenge – cycling 420 miles from Paris to London via the battlefields of Northern France on the Big Battle Fields Bike Ride 2013 for Help for Heroes. We had a send-off in Paris from the Duchess of Cornwall and finished with the Hero ride along with 1200 other cyclists riding from Greenwich to finish on the Mall. This year I was persuaded to cycle the prudential 100 in aid of the Mayor of Kingston's charitable trust, which this year supports the Dementia unit at Kingston Hospital. (that is 100 miles of cycling in a day from the Olympic Park through Kingston down to the Surrey Hills, back to Kingston and once again down the Mall to finish) and the best reception was from the crowds in Kingston.
In 2014 I was lucky enough to be elected as a local councillor for Tudor Ward.
Mr Gareth Dutton
Governor: Headteacher
Date of appointment: 01/09/2015
Term of office: n/a
Appointing body: Ex-officio
Committees: All
2019-20 attendance: 100%
As Headteacher of St Luke's, my role on the governing body is both varied and rewarding. I attend all committee meetings and have responsibility for the internal organisation, management and control of the school and for the implementation of the strategic framework established by the governing body. I discuss all the main aspects of school life with the governing body and expect the governing body to both challenge and support the school to do better.
I have been teaching for over 15 years, firstly in Surrey and Richmond and then in Kingston. This is my second year working at St Luke's. My family and St Luke's fill my life but I still find time for my other loves: reading, sports, listening to music and watching movies.
Mr Daniel Bates
Governor: Co-opted
Date of appointment: 01/09/2017
Term of office: 2017 - 2021
Appointing body: GB
Committees: Achievement & Standards, Wellbeing
2019-20 attendance: 90%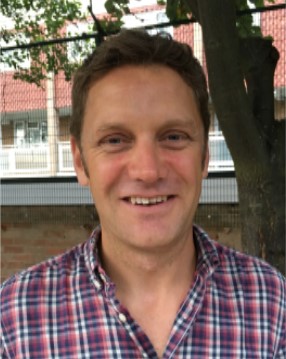 As Assistant Headteacher at St Luke's, my responsibilities are divided between my role as curriculum lead, and that of Year 5 class teacher.
On a day to day basis, I support Mr Dutton in carrying out his duties as Headteacher, and I am a member of both the full Governing Body and the Achievements and Standards Committee. At my last school, I fulfilled the role of Teacher Governor, and I look forward to playing a similarly active role on the St Luke's Governing Body.
I am in my eleventh year as a teacher, having retrained at St Mary's, Twickenham, after an earlier career in IT. My previous teaching roles have all been in Richmond Borough, but I have decided to take the plunge and cross the river for the opportunity to join the team at St Luke's!
Outside school life I enjoy being active – walking, playing football (despite increasingly dodgy knees), skiing and cycling with my wife and two children. I also manage my son's football team at the weekends, and spend the rest of my time trying to finish the renovations to our house!
Mrs Lin Felicien
Governor: Staff
Date of appointment: 01/07/2001
Term of office: 2019 - 2023
Appointing body: Election
Committees: Premises
2019-20 attendance: 90%
I attended St. Luke's myself and have had three children attend the school. I have worked here as a Classroom Assistant for 14 years, firstly in KS1 and more recently in upper KS2. In 2009 I took over as Manager of our After School Club and Holiday Club.
I enjoy running the school Skipping team and supporting staff with art across the school and in productions. In the little spare time I have, I enjoy spending quality time with family and friends.
Fr. Martin Hislop
Governor: Foundation
Date of appointment: 01/06/2000
Term of office: n/a
Appointing body: Ex-officio
Committees: Wellbeing (Chair)
2019-20 attendance: 88%
As Parish Priest of St. Luke's Parish for the past 18 years the ethos and sense of community that is St. Luke's School is a constant inspiration.
It is my privilege to take a very close interest in the pastoral and educational well-being of the School Community. My own background prior to coming to Kingston involved school and university teaching and chaplaincy. I take great pleasure in being part of the School Governor team and I very much enjoy my regular participation in School worship and other activities.
Mrs Amy Brogan
Governor: Parent
Date of appointment: 13/12/2016
Term of office: 2016 - 2020
Appointing body: Election
Committees: Admissions, Premises
2019-20 attendance: 100%
I have two children at St Luke's and my youngest will hopefully also join September 2019.
I'm a Procurement Professional with over 15 years experience of purchasing within facilities, media, financial services and telecommunications companies.
Within my current Director position at Foodbuy I am responsible for over £1bn worth of food, services and products spend and have previously worked with Sky and the London Olympics holding senior positions.
Professional qualifications include MCIPs, BSc Psychology & ILM Managerial Skills qualification.
MR Rhys Pullen
Governor: Parent
Date of appointment: 11/12/2019
Term of office: 2019 - 2023
Appointing body: Election
Committees: Finance, Achievement & Standards
2019-20 attendance: 78%
I currently have two children at St Luke's.
I am a solicitor working in the legal department of an international bank in the City. I specialise in the area of Financial Markets, covering both transactional and regulatory work. I am also chair of the community involvement committee, directing the charitable efforts of the bank's London branch.
I have previously been a governor at a primary school in Kensington & Chelsea and am currently on the board of Malden Oaks School in Ham. Outside of education, I am a trustee of the London Welsh Centre on Gray's Inn Road.
Mrs Liz Ormonde
Governor: Foundation
Date of appointment: 03/11/2011
Term of office: 2018 - 2022
Appointing body: Diocese
Committees: Admissions, Wellbeing
2019-20 attendance: 89%
I have had two children at St. Luke's School. Throughout my years as a parent of children in the school, I was an active volunteer in different areas of school life.
I work as a Lecturer in Early Years Education for Kingston College and as an Associate Lecturer at Kingston University. My knowledge and passion for the Early Years means that I have a keen interest in the younger children in the school and the Early Years Curriculum.
Prior governors (from the past 12 months)

Mrs Teresa Payton
Governor: Co-opted
Date of appointment: 01/07/2015
Term of office: 2019-2020
Date stepped down: 31/08/2020
Appointing body: GB
Mrs Lucy Bird
Governor: Co-opted
Date of appointment: 01/07/2019
Term of office: 2019 - 2019
Date stepped down: 11/12/2019
Appointing body: GB
Mr Steve Mole
Governor: Co-opted
Date of appointment: 01/12/2015
Term of office: 2015 - 2019
Date stepped down: 11/12/2019
Appointing body: Co-opted
Mr Phil Young
Governor: Co-opted
Date of appointment: 13/12/2016
Term of office: 2016 - 2019
Date stepped down: 01/11/2019
Appointing body: Parent